Message by Director, CUI Lahore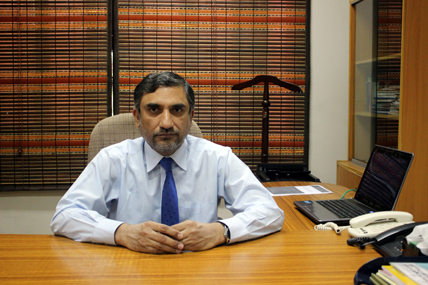 Strong civilizations are built upon deep-rooted, consistent and unique scientific traditions. Only by means of profound, prudent, inquisitive and tolerant minds, we can make possible the establishment of such strong scientific traditions leading to an inspiring future derived from the past. Brilliant minds that pioneer the developments around the world do not confine themselves to the quest for the right knowledge; yet they relentlessly seek after what is precise, positive and sustainable.
Being aware of these facts since the establishment of COMSATS University in 1998, we have strived with a mission to search for what is precise, positive and sustainable, to understand the people, society, nature, and to share the outcomes of this search with humanity, and then gradually and consistently climbed the ladder of success to become one of the leading and exemplary educational institution in Pakistan.
At the office of Alumni Relations and Career Development, our main objective is to cultivate intellectual, environmentally conscious, investigative, entrepreneurial, innovative and professional individuals who can develop knowledge on a global scale, and spread this knowledge both at national and international levels efficaciously.
The strength of our academic programs mainly lies in their rigor and quality, independently assessed and certified by both national and international bodies which continually rank order universities nationally, regionally, globally and based on different knowledge domains. Briefly, the HEC Pakistan has been consistently placing CUI amongst top five best universities in the country. Internationally, Times Higher Education (THE) of London in its most updated rankings has placed CUI among the world's top 601-800 universities globally and in Asia at 131st position and another Shanghai ranking has also ranked CUI 1st in Pakistan in 2018.
All these peculiar features make COMSATS a natural destination of choice for the aspiring students, graduating with fabulous professional skills and becoming the top choice of potential employers in the global market and thus resulting into knowledgeable, inclusive, tolerant and safer, sustainable societies which is the core mission of the office of ARCD. I would like to extend my kindest regards to the distinguished Corporates and multi-nationals, being potential employers for our graduates and congratulate the staff members of Office of ARCD for their tireless endeavor and wish a successful, bright future to our students and graduates.
Dr. Syed Asad Hussain
Director CUI, Lahore Campus