Career Management Toolkit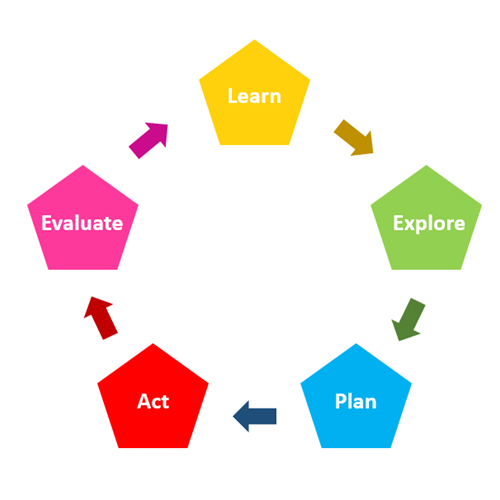 Career Management Toolkit is a circular process which involves various steps:
Step no. 1:
Self-assessment is the first step towards gaining a greater understanding of your skills, preferences and values. First determine your strengths, weaknesses, qualification, skillsets, experience and priorities in life.
Know your personality type: There are different types of personality like active/passive, Extrovert/introvert, Defender/offender, Bossy/submissive and different professions suit to different types that's why personality judgement is very important
Step no. 2:
Explore: Try hard to explore the maximum possible choices before opting a career, meet your teachers, discuss with your mentors & career counsellors, search job portals and surf on renowned job sites, read newspapers, never miss any good opportunity.
Networking: Connect with others who can provide advice and referrals.
Social networking such as LinkedIn, Twitter, FB
Develop Contacts – Networking with diverse communities
Talk to your seniors, experts, specialists of your desired profession
Read literature, go through job sites, surf on google to be more informed
Step no. 3:
Goal Setting, Target oriented: Now that you understand what's important to you, have identified what you want out of your career and recognize the skill gaps, it's time to set your goals and targets and plan your future accordingly. Plan your activities and fill up your skill gaps, take advice from your career counsellor or your mentors.
Step no. 4:
Take Action: Now it's time to take solid action, promote your achievements with your potential employers. Give each application and interview the best chance for success
Resume writing: Develop and manage your resume and cover letter in an excellently impressive manner, Excellent Resume displays your strengths valuable for your potential employer, must mention your strengths and achievements that can prove attractive for your employers. You can find best resume formats on net.
Resume should always have an impressive Cover Letter
Get yourself be prepared for an interview: Contact your seniors or career counsellors for guidelines. Surf on net and find the best traits to adopt before appearing in a successful interview.
Furnish powerful References: At least 3 references from professionals or your current supervisor.
Step no. 5:
Evaluate your achievements and progress: Career development isn't necessarily a destination – it's more of an ongoing journey. That's why the Career Management Model is circular, rather than linear. Keep in mind that your Career Development Plan is an evolving process, may be you have to seek for change in your existing role as you want professional development and strive for excellence in your future. Then you will have to go through the same process, learn the tricks of trade and map your next career step.
For modules and detailed Toolkit click here: